BIOGRAPHY
Formed in France in 2009, Temnein plays Melodic Death Metal (for fans of: At The Gates, Dark Tranquillity, Ghost Brigade, Insomnium, Opeth…).
A first album « 404 B.C. » released early 2014, available in Europe and USA through Danish label Mighty Music, offers them some good reviews in the European Metal press. This recording allows them to share the stage with international renowned Metal acts, whether in the border countries of their French home or in Japan for three wonderful gigs in December 2014.
After the arrival of a new vocalist in 2016, the band enters in Conkrete Studio (Loudblast, ETHS, The Great Old Ones…) with charismatic producer « El Mobo » to record their 2nd album, "White Stained Inferno". The album is out worldwide since October 20th 2017 through Massacre Records. "White Stained Inferno" already gained great reviews on Lords of Metal ( 84/100), Metal Observer (9/10), Rock Hard Germany (7/10), Metal Temple (9/10), Thrashocore (7,5/10), and many more.
The album title is a reference to a white stained inferno, which represents the medical field and more specifically the stay in a hospital. The lyrics deal with all the difficult steps of the disease, whether it's physical or psychological: from the beginning of the disease to the possible healing, not to mention the chilling diagnostic, the struggle against oneself and the fear of death.
All the visuals are realised by Ibay Arifin, an astonishing Indonesian young artist who has recently worked with Gojira, Year of No Light, pg.lost, among others.
Musically, the album is darker and more atmospheric than « 404 B.C. ». To symbolise the concept of the record, the band wished to focus more on emotions rather than pure technical aspects. However, the whole record has a lot of diversity, included several acoustic parts, furious accelerations, numerous catchy breaks, well shaped guitars solos and the main vocals have more efficiency and a diverse range of possibilities.
In Spring 2018 the band signed a worldwide management/booking deal with The Flaming Arts Agency (Behemoth, Venom Inc., Marduk, Possessed, I Am Morbid…). The band is now touring in support of major artists: French shows of the Hate/Shade Empire/Nordjevel summer tour 2018, the European tour of The Crown/Svart Crown/Bleeding Gods in December 2018 and the At The Gates Russian tour in March 2019.
Over the years, Temnein has played more than 60 Shows in Europe and Japan, with opening acts for : Eluveitie, Powerwolf, Primordial, Equilibrium, Leprous, Beyond Creation, Mors Principium Est, God Dethroned, Pyogenesis, Dagoba, Benighted, Gorod, Leng T'che, Hypno5e, No Return, Hacride…
PRESS
---
"White Stained Inferno"
« All the songs are straightforward. The album plays more than one hour, but it will blow you like a tornado. Full of energy, great ideas, perfect music. » – Kronos Mortus (HU) – 9,5/10

« Overall, "White Stained Inferno" is an album that TEMNEIN should boast about. All the hard work put into it will pay off and set the bar for TEMNEIN » – Metal Temple – 9/10

« The band effortlessly combine melody and aggression, delivering a number of fantastic songs that will live long in the memory (and on the playlist). If there's a better Death Metal album than White Stained Inferno in 2017, I'll eat my hat. » – Metal Observer – 9/10

 « Anyone who can imagine a mix of Amon Amarth, Heaven Shall Burn and Dark Tranquillity should risk an ear. » – Rock Hard (DE) n°366 (Soundcheck #40)
« The band stands well for a bigger jump » – Legacy (DE) n°111 (Soundcheck #29) – 11/15
 « Temnein is a perfect example of an underground band that brings so much more potential than larger names in this scene » – Lords Of Metal (NL) – 84/100

« White Stained Inferno is a excellent album in the Melodeath genre with a strong 90's vibe. The technical and progressive skills of the band are adding a consistant value to this recording. » – Horns Up (FR) – 8/10

« TEMNEIN is another cool band. This does remind me of Arch Enemy when Angela Gossow fronted the band » – Battlehelm –  4/5
« There we have one of the best Melodic Death Metal release of 2017 » – Nightfall in Metal Earth (FR) – 4/5

« An album rich in emotions, dark and slightly atmospheric, which really deserved to be lingered over, and which hopefully should bring a greater notoriety to its creator. » – Thrashocore (FR) – 7,5/10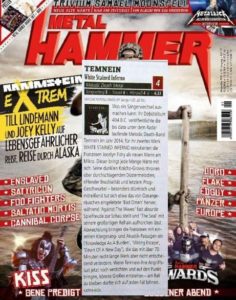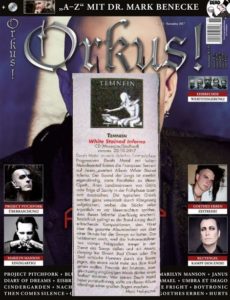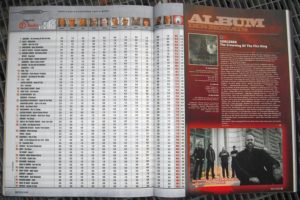 "404 B.C."
"The band from Nancy worked on their debut album 404 B.C., hugely matured and operates in a very professional level. As a gateway drug were 'The Realists' , the very catchy 'Tangled ' or the monumental masterpiece 'Bright Knife' " – Rock Hard Magazine (DE) – 8/10 (Soundcheck #37)
"An experimental twist. Think 'Between The Buried and Me meets At The Gates' with lots of blasts beats, fine riff introduction and catchy riffs" – Aardschok Magazine (NL) – 73/100
"Barely we listen a swedish sound that we appreciate technics and the composition as far as the interpretation from other influences" – Legacy Magazine (DE) – 12/15 (Soundcheck #25)
"TEMNEIN is a great example of a relatively underground band that is quite simply better (at least, in my opinion) that bigger names in the various Metal music scenes; the arrangement and mixing is everything I could ask for in an album of this caliber" – Metal Temple (GR) – 10/10
"We can resonably guess that we have a big name of the national scene which may make talk about beyond our beautiful country" – VS Webzine (FR) – 14,5/20
"A production that sounds marvel, and makes me immediatly think at the Göteborg's scene, old In Flames and Dark Tranquillity supporting" – Pavillon 666 (FR) – 8,5/10
"The musical content got some ambiences and a band's own style which helps not see the time passing" – French Metal (FR) – 16/20
"Thus, what to add to the quality of an album like this incredibly effective and successful 404 B.C. ? Well, for example the texts, focusing on philosophy and duality, deserves a careful consideration of the fans, who have so many and so many hours of listening before they begin to enjoy and savor the most artistic nuances of this music. A debut which is equivalent to an earthquake" – Rock Metal Essence (IT) – 92/100
"Conclusion: simply a brilliant death / thrash progressive metal masterpiece." – Metal Underground (AU) – 5/5
"For short, with 404 BC, Temnein make a very listenable and successful contribution to the enrichment of thrashy and progressive metal scene" – Twilight Magazine (DE) – 12/15