BIOGRAPHY
Formed in France in 2009, Temnein is a Melodic Death Metal band, for fans of At the Gates, Dark Tranquillity, Ghost Brigade, Insomnium, Opeth, In Mourning… The band has previously released two albums: "404 B.C." in 2014 through Mighty Music and "White Stained Inferno" in 2017 by Massacre Records. Both records gained good reviews in the international Metal press.
The 3rd album "Tales: Of Humanity and Greed" has been self-released by the band on May 22nd, 2020 with an exclusive worldwide digital distribution by Blood Blast, a new service powered by Nuclear Blast & Believe Music. The album was produced by "El Mobo" (Loudblast, ETHS, The Great Old Ones…) and all the visual work was made by Vincent Fouquet (Meshuggah, Kataklysm…).
The album's lyrical concept is a collection of various tales, myths and legends: Asian tales, Inuit stories, pop culture themes (Dr Who, Legend of Zelda…). All those stories have a common moral: the repetition of human errors and greed across times.
Musically, the band sticks to their Melodeath roots with shorter songs than previously. However, Doom/Death and Post-Metal elements have been added to create more atmospheres, while keeping some Progressive influences as well.
"Tales…" got an incredible response from the press with reviews and articles featured on Metal Hammer UK (8/10), Rock Hard (7/10), Zero Tolerance (4/6), MetalSucks (video premiere), Metal Hammer GER (4,5/7 – Soundcheck #14), Bring the Noise (8/10), Discovered Magazine (8/10), MetalObs (4/5) and many more!
Over the years, the band has toured in Europe, UK, Russia and Japan, including support slots for: At The Gates, Beyond Creation, Mors Principium Est, Hate, The Crown, Svart Crown, Nordjevel, Shade Empire, Bleeding Gods…
The band has also played some European festivals: Durbuy Rock Fest, HRH Fest, Aalborg Rock&Metal Fest…
Temnein is endorsed in France by ENGL, MarkBass & Zoom.
Line-up :
Florian Frandidier : guitars
Julien De Giorgio : bass
Valentin Treuillier : drums
Jocelyn Fidry : vocals
Morgan Rappe : guitars
PRESS
---
"Tales: Of Humanity and Greed"
Metal Hammer (UK) – 8/10: "Each is a potential stand-out, taking cues from death/doom, prog, folk, and more…For melodeath diehards, this is a must-listen. For fans of: Insomnium, Amon Amarth, Amorphis."
Metal Hammer (GER) – 4,5/7 – Soundcheck #14: "French Melodic Death Metalers Temnein have created a wonderful artwork for their third studio album, and also musically "Tales…" sounds quite round"
Rock Hard Germany (GER) – 7/10: "The melodic guitar works often reminds the Swedish melodic death guard around Dark Tranquillity, In Flames and co…The guys are especially good with an original approach when they live out their progressive streak, for example in the strong "City of Gold" or in the final ten-minute epic "Scums of Hamelin".
Zero Tolerance Magazine (UK) – 4/6: "Temnein stand somewhere in between their fellow countrymen Gojira and Svart Crown. While possessing some searing melodies and flamboyant licks in the style of the former, at their darker moments they also tumble towards the direction of the latter."
Bring the Noise (UK) – 8/10: "This album is a superb effort and needs to be heard by as many fans as possible… A band that refuse to stand creatively still, and "Tales…" is the perfect stepping stone in the band's sound."
Powermetal.de (GER) – 8/10 – Soundcheck #19: "A more than interesting listening pleasure"
The SoundBoard Reviews (UK) – 8/10: "Temnein have a unique concept with their lyrical content which they interpret musically in a dark manner. Who'd have thought that Doctor Who would work so well in melodic death metal form?!"
Eternal Terror (NO) – 5/6: "Since Opeth went completely prog-rock, with M.Åkerfeldt abdicating the Bloodbath throne… actually two bands did emulate his old work to me: Omnium Gatherum on "Beyond" and In Mourning on "Afterglow". We can now add Temnein's "Tales: Of Humanity And Greed" to the fold, an excellent album full of both death metal and infectious progressive harmony."
Discovered Magazine (UK) – 8/10:  "…This France-based outfit is ready to take over the modern wave of melodic death metal with a personal touch that will immediately catch both the old-school fans of this crucial genre and the new generations of metal fans."
Metalbite (US) – 8/10: "Should you go to their shows? Do it, the guitars alone are worth it."
Grizzly Butts (US): "It is a powerful modern melodic death metal record that is both cognizant of the high standards of the sub-genre in 2020"
Horns Up (FR) – 8/10: "Inspired musicians, well-crafted global package (great front cover), we'll soon enjoy the 52 minutes of Tales which reveals its quality after each listening"
MetalObs (FR) – 4/5: "The vocals and the instruments are pointing in the same direction and succeeds to the creation a great atmosphere."
Thrashocore (FR) – 8/10: This album has a great consistence and an impressive easy-listening ability, these guys from Eastern France stands now as a major name in France.
MoshPit Nation (US): "The music draws from melodeath, black metal, and symphonic metal and blends them in ways reminiscent of Dark Tranquility, Insomnium, and some Dimmu Borgir. I recommend this album to any fan of melodeath or story fueled music."
Distorted Sound Magazine (UK) – 7/10: "a very good record all the way through, a great record at multiple points. It's a band very much having a vision and, for the most part, succeeding at that vision and bringing the listener on an atmospheric journey along the way."
Metal.de (GER) – 6/10 – Soundcheck #21:  "Tales… is a step in the right direction"

PunkNews.org (US) – 3/5: "…Temnein do what they do rather well. The songs, as opposed to feeling like various constituent parts of a single whole, stand comfortably as individual compositions."
Metal Sucks (US) – about "The Knotted Bag": "The song is as excellent of a melodic death metal track as you'll hear today, reminiscent of bands such as Omnium Gatherum and Kalmah."
Toilet Ov Hell (US) – about "Rise of the Sontarans": "Fans of At the Gates, The Black Dahlia Murder, Amon Amarth, Mors Principium Est, Kataklysm and similar modern melodeath acts will rejoice together with these French pals."
---
"White Stained Inferno"
« All the songs are straightforward. The album plays more than one hour, but it will blow you like a tornado. Full of energy, great ideas, perfect music. » – Kronos Mortus (HU) – 9,5/10

« Overall, "White Stained Inferno" is an album that TEMNEIN should boast about. All the hard work put into it will pay off and set the bar for TEMNEIN » – Metal Temple – 9/10

« The band effortlessly combine melody and aggression, delivering a number of fantastic songs that will live long in the memory (and on the playlist). If there's a better Death Metal album than White Stained Inferno in 2017, I'll eat my hat. » – Metal Observer – 9/10

 « Anyone who can imagine a mix of Amon Amarth, Heaven Shall Burn and Dark Tranquillity should risk an ear. » – Rock Hard (DE) n°366 (Soundcheck #40)
« The band stands well for a bigger jump » – Legacy (DE) n°111 (Soundcheck #29) – 11/15
 « Temnein is a perfect example of an underground band that brings so much more potential than larger names in this scene » – Lords Of Metal (NL) – 84/100

« White Stained Inferno is a excellent album in the Melodeath genre with a strong 90's vibe. The technical and progressive skills of the band are adding a consistant value to this recording. » – Horns Up (FR) – 8/10

« TEMNEIN is another cool band. This does remind me of Arch Enemy when Angela Gossow fronted the band » – Battlehelm –  4/5
« There we have one of the best Melodic Death Metal release of 2017 » – Nightfall in Metal Earth (FR) – 4/5

« An album rich in emotions, dark and slightly atmospheric, which really deserved to be lingered over, and which hopefully should bring a greater notoriety to its creator. » – Thrashocore (FR) – 7,5/10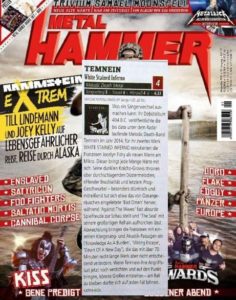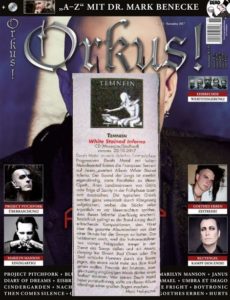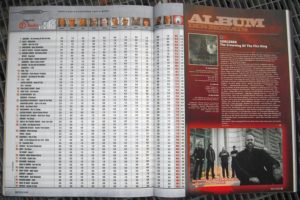 "404 B.C."
"The band from Nancy worked on their debut album 404 B.C., hugely matured and operates in a very professional level. As a gateway drug were 'The Realists' , the very catchy 'Tangled ' or the monumental masterpiece 'Bright Knife' " – Rock Hard Magazine (DE) – 8/10 (Soundcheck #37)
"An experimental twist. Think 'Between The Buried and Me meets At The Gates' with lots of blasts beats, fine riff introduction and catchy riffs" – Aardschok Magazine (NL) – 73/100
"Barely we listen a swedish sound that we appreciate technics and the composition as far as the interpretation from other influences" – Legacy Magazine (DE) – 12/15 (Soundcheck #25)
"TEMNEIN is a great example of a relatively underground band that is quite simply better (at least, in my opinion) that bigger names in the various Metal music scenes; the arrangement and mixing is everything I could ask for in an album of this caliber" – Metal Temple (GR) – 10/10
"We can resonably guess that we have a big name of the national scene which may make talk about beyond our beautiful country" – VS Webzine (FR) – 14,5/20
"A production that sounds marvel, and makes me immediatly think at the Göteborg's scene, old In Flames and Dark Tranquillity supporting" – Pavillon 666 (FR) – 8,5/10
"The musical content got some ambiences and a band's own style which helps not see the time passing" – French Metal (FR) – 16/20
"Thus, what to add to the quality of an album like this incredibly effective and successful 404 B.C. ? Well, for example the texts, focusing on philosophy and duality, deserves a careful consideration of the fans, who have so many and so many hours of listening before they begin to enjoy and savor the most artistic nuances of this music. A debut which is equivalent to an earthquake" – Rock Metal Essence (IT) – 92/100
"Conclusion: simply a brilliant death / thrash progressive metal masterpiece." – Metal Underground (AU) – 5/5
"For short, with 404 BC, Temnein make a very listenable and successful contribution to the enrichment of thrashy and progressive metal scene" – Twilight Magazine (DE) – 12/15